We are committed to providing you with professional
solutions! Guided by the international and domestic markets, we will continue to develop and expand the scale of the company, improve the quality of products, and establish a complete quality assurance system and production management system. We insist that the quality standard of each product must be higher than the industry level to ensure that the product reaches a unified standard and quality.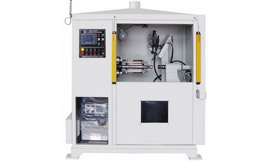 Seam Welding Machine
Model: 010
PRODUCT INFORMATION
1. Suitable for wide range material seal
2. PLC/HMI easy operation touch screen , English Interface.
3. Quick, repeatable head adjustments for precision weld
4. Precise Temperature control, hot air heating up to 750 ' C
5.Arm length can be customized, 800 mm (standard), 1500 mm, 1800MM. etc
6. Available in hot wedge, hot air or equipped with both for optimal product production.
7. High Quality Imported components, Japan Mitsubishi PLC, OMRON, AIRTAC Pneumatic Parts, etc
Welding process:
welding process is single-sided welding double-sided molding,
Welding speed requirement ≥800mm/min
Welding torch shielding gas: Ar / 100%;
Shielding gas: Ar/100% (for back protection of electric water heater tanks).
SEAM WELDING MACHINE RELATED PRODUCTS