We are committed to providing you with professional
solutions! Guided by the international and domestic markets, we will continue to develop and expand the scale of the company, improve the quality of products, and establish a complete quality assurance system and production management system. We insist that the quality standard of each product must be higher than the industry level to ensure that the product reaches a unified standard and quality.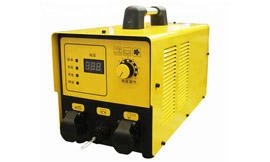 Stud Welding Machine
Model: 002
PRODUCT INFORMATION
lCompact, lightweight portable machine.
lStrong, robust construction.
lRapid welding action reduces weld time.
lSuper fast recharge time improves profitability.
lEasy adjustment of capacitor voltage.
lLED displays allow easy monitoring of functions.
lWelds Mild Steel, Stainless Steel, Aluminium and Brass.
<-------- Can Move Left or Right -------->
| | | | | |
| --- | --- | --- | --- | --- |
| Welding range | Φ4mm-Φ20mm | Φ4mm-Φ22mm | Φ4mm-Φ28mm | Φ4mm-Φ36mm |
| Welding current | 200A-1600A | 300A-2000A | 300A-2500A | 400A-3150A |
| Welding time | 0.1S-3.0S | 0.1S-3.0S | 0.1S-3.0S | 0.1S-3.0S |
| Welding speed | M20 10pcs/min | Φ22 10pcs/min | Φ28 10pcs/min | Φ36 8pcs/min |
| Input power | AC 3~380V±10% | AC 3~380V±10% | AC 3~380V±10% | AC 3~380V±10% |
| Rated input capacity | 50KW | 60KW | 80KW | 110KW |
| Power switch | 100A | 125A | 160A | 225A |
| Protection grade | Ip23 | Ip23 | Ip23 | Ip23 |
| Cooling way | F | F | F | F |
| weight | 100kg | 120kg | 135kg | 160kg |
STUD WELDING MACHINE RELATED PRODUCTS